We are always moving forwards. This is why we work every day on new innovations and products which have the potential to do more. This allowed us to bring a range of new products and ideas to the market in recent years which are now to be found throughout the world. In almost every household or commercial property.
---
Initiator and decisive driver – Ulrich Windmöller is a creative force behind the sector, in the very best sense of the word. He has been driving the development of new technologies for years, either in person or as a role model and source of ideas for his employees. This is how we regularly generate momentum in the market. Our innovation management system is an important building block. It encourages, drives and rewards the creativity of every employee.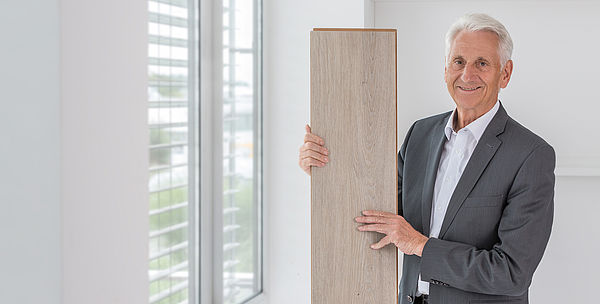 The result – free-thinking employees who want to get involved in the design and the future of the business and who have also dedicated themselves in the past to making a decisive contribution to innovation. This has facilitated the development of products such as the easy-to-install, click-in laminate, the click-in design flooring, or our revolutionary bio-polyurethane and has allowed them to be put into production. It goes without saying that we have also kept an eye on both sustainability and customer benefits.
Bio-polyurethane technology
As a responsible company, the aim of Windmöller GmbH is to design manufacturing methods and products to be as environmentally-friendly as possible for the world's population and its environment. The surrounding conservation areas and the family-oriented approach have inspired Windmöller to take a particular interest in looking after nature and the health of the population and to find a sustainable way of protecting them both.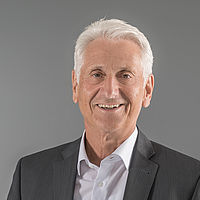 "Some of the key considerations at our developmental phase are questions of resource management and the removal of pollutants. We have always striven to replace expensive petrochemical raw materials, which have a high extraction cost, with natural, renewable resources and thus to remove any dependency on the price of crude oil. We also wanted a product that was free of chlorine compounds, plasticiser additives and flame retardants."
- Ulrich Windmöller
With ecuran, the research and development department have, after many years of work, developed a high-performance composite material which allows the petrochemical polyols usually used in the manufacturing process to be replaced by, for example, castor oil. Equally important, plasticisers and solvents are no longer required to produce this material. All of this without any reduction in performance.
We have been familiar with polyurethane as a material for many years from medical technology, the food and drink or automotive industries and other high-end sectors. Windmöller developers have once again justified their reputation as pioneers by finding a way of developing this special material even further for use in the manufacture of flooring.
In 2009, Windmöller launched the Windmöller CONNECT technology for design flooring into the market. This has since proven to be a very successful installation technology for elastic flooring, which does not require any glue. The main benefit of this new installation method for design floorings is that it is very easy for experienced end users to install.
When the subject of plasticisers in PVC floorings became a discussion within the industry in 2013, it was once again Windmöller who produced an innovation in design flooring. Windmöller removed phthalate-based plasticisers from its complete range of design flooring by 1 July 2013. This included the adhesives and design flooring with a click-in connection.
This new design flooring is based on a new recipe which uses phthalate-free DEHT/DOTP plasticising ingredients. These meet the same requirements for pliability, elasticity and ductility as the recipes previously used but are approved as being harmless to health.
Click-in laminate had been the best-selling flooring for more than a decade. One of the main benefits of this flooring is that it is very easy to install, primarily thanks to its click connection. However, in recent years, laminate flooring had been facing serious competition in the market.
Our R&D department successfully developed a click connection for design flooring thanks to their experience in the field of click connection for laminate flooring. The click-in vinyl or click-in design flooring was born. This flooring combines the benefits of an elastic synthetic material flooring with the ease of installation associated with a click connection.
Click-in system for laminate
As a pioneer in the field of laminate flooring, this floor covering remains an important part of the Windmöller product portfolio today. After Windmöller set up the first laminate flooring production facility in Germany in 1990, the company launched laminate flooring with an innovative click connection in 1991.
This product caused a revolution in the flooring market in the 90s. The positive features of the laminate flooring persuaded vast numbers of customers to install this flooring into their homes. Durability, stain and UV resistanceand, last but not least, the click connection developed in-house ensured that the laminate flooring successfully dominated the 90s.
Many end users installed the click-fit laminate in their homes, replacing carpets or aging wooden flooring. Above all, it was the possibility to individually install the flooring both quickly and easily that proved to be an important element for the popularity of click-fit laminate flooring.