Customised flooring development
Understanding customer requirements and implementing them precisely – as a specialist and service provider in the manufacturing of flooring solutions, we have everything that is required. This has allowed us to establish ourselves in the market quickly as we continue to expand our customer base with individual products for every requirement. We provide customised solutions for every type and size of project – always completed with the high quality and precision expected of Windmöller. Simple, flexible and uncomplicated.
---
Customised flooring developments
Product development
Special target groups require special solutions. We will always work closely with you to ensure you are able to offer your customers exactly what they want. Together we will develop the product as you need it – tailor-made, and precise fitting.
Individual flooring solutions as sustainable flooring – polyurethane-based flooring solutions can be produced in almost any form and to almost any design using digital printing. The perfect match to your requirements and as sustainable as technically possible.
A beautiful, individual solution. We produce design flooring to match your precise designs. Whether as dryback, click in or multi-layer flooring with HDF core boards, it is your flooring solution, regardless of the format.
Manufactured as a classic laminate flooring and creatively matched to every setting. Our laminate flooring can cope with the most severe loads. And almost any conceivable design is possible using digital printing.
Matched to the requirements of your flooring solution, we will develop a unique and individual polyurethane-based solution for the footfall and impact sounds in your environment.
Range consultation
Our advice on finding a suitable range for your customers, with in-depth analysis and appropriate proposals, is also available to you. Whether on designs, formats, installation options or suitable accessories for the floor covering, together we will find the best solution for you, but above all for your customers. Don't hesitate to get in touch.
Certification management
Make more of your offering– with certificates which will build your customer loyalty. We will support you in certifying your products so that all the relevant environmental and health requirements are met.
Packaging
First impressions matter. This makes it even more important to package your products as attractively as possible and to position them prominently. We can help you with this by planning and designing your packaging specifically for your warehouse and POS material. The perfect way to make your branding visible.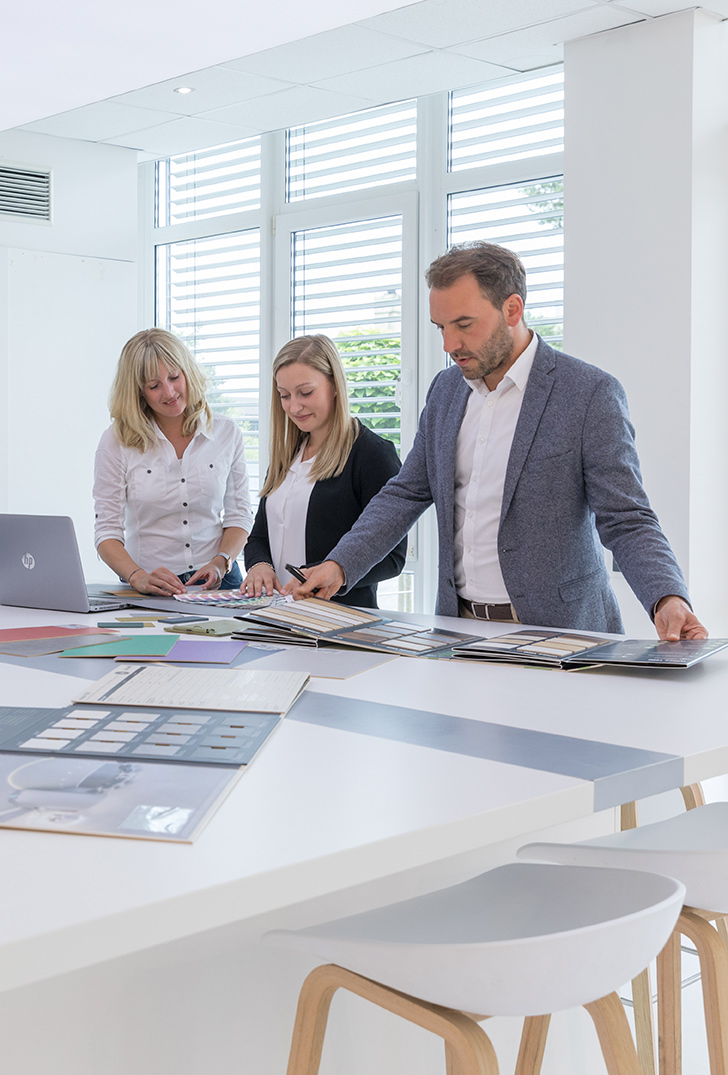 Building a customer-specific product portfolio.
The world is constantly on the move. We will work closely with you to help you respond flexibly to changes, customer requirements and developments in the market. Together we will make your project happen by taking on the production and by delivering at the right time, to the right location.
And of course, we can help you through potential bottlenecks, allowing you to remain flexible and concentrated on your business. We will do the rest. With our versatile machine park, we are in a position to provide a flexible response to any requirement and to manufacture or store large volumes without difficulty. Don't hesitate to get in touch. Together, we will find your solution.